Fluoresce HD™ Coupler Dual Wavelength Technology, a first of its kind, has been introduced by Lares Research now in Canada.
It is the second wavelength fiber optic light output added to electric handpieces and air turbines, amplifying the visualization of dental caries and restorative materials.
With Lares patented dual-wavelength technology, dentists can seamlessly switch back and forth between bright light or UV light output with the press of a button.
With Fluoresce HD you know with certainty what needs to be removed and what should be kept intact. This significantly increases accuracy with reduced chair time and additional cost. Additional cost is cut down as there is no need for post-op x rays to monitor the precision of the work done.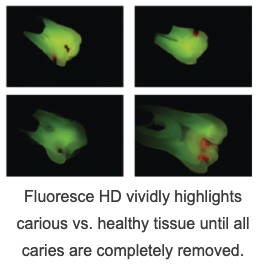 With high intensity ( 405 nm UV ) light exposure from fiber optic turbines, it fluoresces different colors for caries, restorative material and healthy tooth which clearly demarcates the areas that should be removed and which should be kept intact.With the removal of all the orange/red glowing decayed tissue using a handpiece, the preparation is complete and there is no need for additional probing, caries indicator dyes, camera images or x rays to confirm the complete removal of caries.
Studies based evidence shows the caries removal aided by 405nm UV light, more accurate at identifying remaining decay, reducing the risk of recurrent caries.
Fluoresce HD fits all fiber optic air turbines with KaVo MULTIflex compatibility, by the addition of the Lares Dual Wavelength Fluoresce Swivel Coupler. Affordable, Small and sleek with inadvertent switch depression shielding, swivel coupler allows the dentist to easily change back and forth from white to dark blue ( 405 nm UV ) light as needed with the press of a button on the coupler.


University Based
Scientific Evidence